If you have already completed the setup to router correct but there is no Internet, PLS check:
1. Make sure you enter the correct router password, otherwise, even if you complete the setup, it will display the status of the connection, but there is no network. You can check in to connect to your router with your smartphone directly.
2. Plug it near to the router so that it can receive the router's signal before you set it up. Once you've set it up, you can unplug it again and place it in a best place. It should be placed between the router and the weak signal area, but within the router's transmitting range.
3. Keep plugging into, press the RESET button at the bottom of the AC750 for 10 seconds, a little bit harder pls because we designed it not easily to be reset, wait for 1 minute patiently for it reboots itself. Then set it up again step by step following the instructions.
HOW TO UPGRADE THE FIRMWARE:
If it still cant solve the problem, pls downloadthe latest firmware from the attachment and login into 192,10.1upgrade in the system. Follow the steps below:
At first, download the firmware in the attachment and save it on your computer.
keep plugging it into the socket near your router and press the RESET button at the bottom of the extender for 8 seconds to restore it to the factory Settings. Pls press a little harder because we designed it so that it won't be easy to reset.
1. Connect the extender with your laptop, open the browser, and enter 192.168.10.1 Login into the 192.168.10.1, click the System icon to upload the firmware.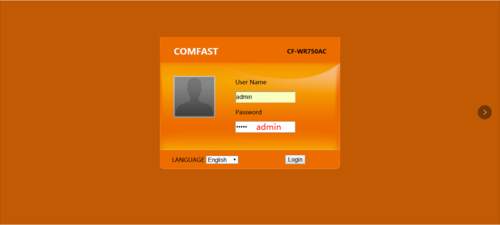 2. Click the System icon.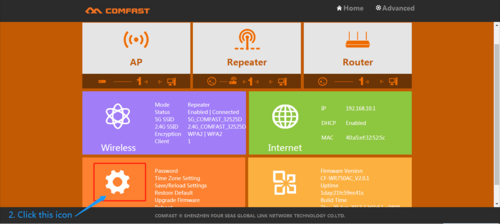 3. Choose Upgrade Firmware.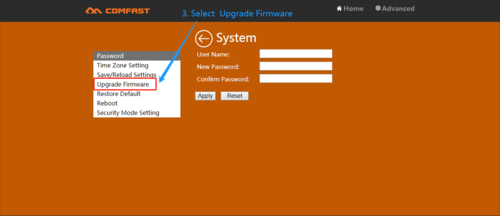 4. Click Select File, upload the firmware CF-WR750AC-V2.0.3 in the attachment, wait for a moment for it reboots itself
5. Reconnect your laptop to the COMFAST 750-2G, set it up again.