You can connect the extender to your existing WiFi network with three ways.

· Connect with WPS. If your router has WPS capability, you'd better choose the One key to Repeat to set it up (See the instructions below).
· Connect with a smart determinal device: S‍eriud WN300: Set up with a smartphone / laptop / tablet‍‍
· ‍Set up with a PC: Seriud WN300: Set up with a PC without wireless feature
H‍ow to Set up with a smartphone / laptop / tablet‍:
① Plug the extender into an electrical outlet proximity to the WiFi router or access point and wait for the Power Lamp to light on.
② Search and connect to the extender WiFi network Seriud-WN300 in your wireless network list with a laptop or smartphone.
Note: Keep your smartphone or laptop being connected to the extender during the installation.
③ When the extender is connected for the first time, the management interface will pops up automatically. If not, launch a web browser and enter 192.168.10.1 in the address field. Enter the default password admin and click Login.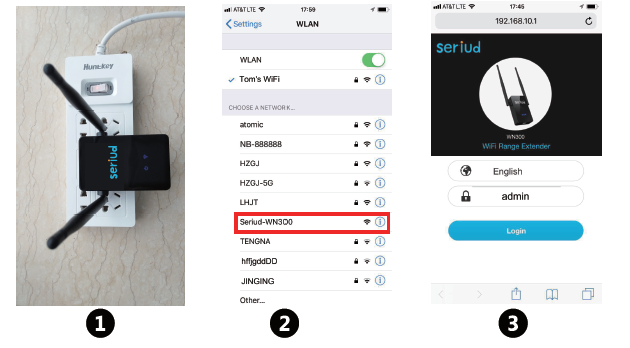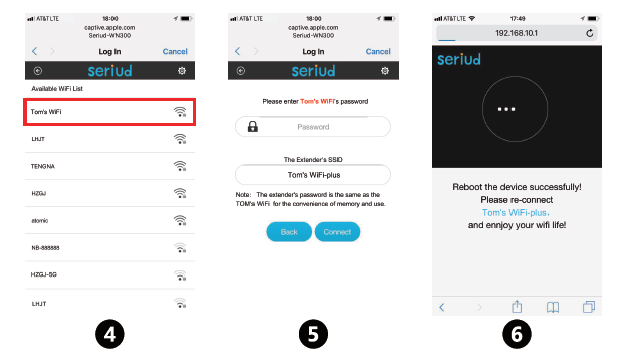 ④ It will scan the wireless network signals around. Select the WiFi network you want to extend.
⑤ In the Password field, type the existing WiFi network password and click the Connect button.
Note: The extender's default name (SSID) is your existing WiFi network name with"-plus"at the end. The password to be used will be the same Wi-Fi password on your main router. We recommend that you use a different SSID for your extender than your router SSID.
Example:
Existing WiFi Network name (SSID): Seriud
New Extender WiFi Network name (SSID): Seriud-plus
Existing WiFi Network Password: 12345678
New Extender WiFi Network Password: 12345678
⑥ After the installation is complete, it will reboot automatically.
⑦ Move it to the best location between your router and the area with a poor signal. The location must be within the range of your existing WiFi router network.
⑧ Connect your smartphone or WiFi devices to the new extended WiFi network using the SSID and password that you created.
Note:
1. Make sure that your ROUTER PASSWORD is correct, otherwise the extender cannot be connected to the router.
2. Check the WiFi Lamp's status to confirm whether the setup is successful. If the WiFi Lamp continues to turn on, the setup is successful and you can use the new network of the repeater. The WiFi Lamp lights up and goes out alternately that means the setup is failed. Please press the RESET button for 10 seconds to restore to the factory settings, then set it up again following the installation instructions step by step.
Any question pls contact seriudstore@gmail.com.
Related Articles:
S‍eriud WN300: Set up with a smartphone / laptop / tablet‍
Seriud WN300: Set up with a PC without wireless feature
Seriud WN300‍: ‍How to set up with WPS